Meet the Ford F150 Lightning Electric Truck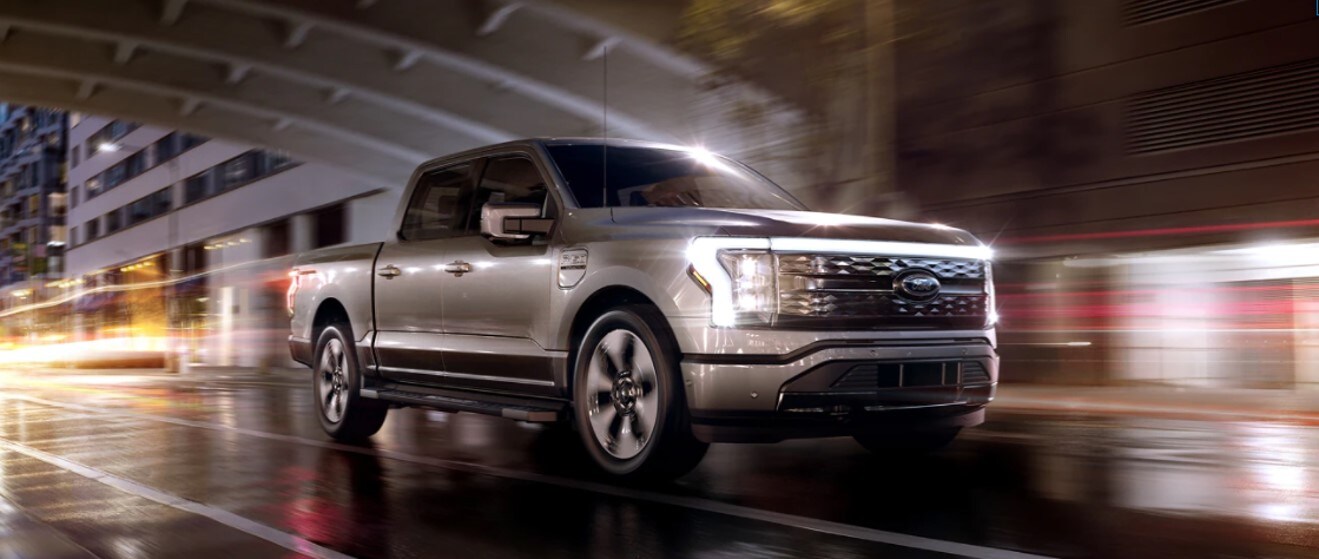 The Shocking, All-New 2022 Ford F-150 Lightning in Malone
When the Ford brand jumped into the Electric Vehicle (EV) production, they set their sights on the extremely popular Ford F-150. The best-selling pick-up is already a highly capable, highly-productive vehicle. But what happened when it turned into an electrified version? It became one of the most sought-after EVs in the nation. And now, the Ford F-150 Lightning is back to impress with the 2022 version. Welcome to the future of pickup trucks. Welcome to the future of the Ford F-150.
Charging Capability and Driving Range
Your Ford F-150 Lighting comes with two battery options. The extended range battery provides up to an EPA-estimated 300-mile range on a full charge with the Pro, XLT, and Lariat models. The Platinum model will get you an EPA-estimated 280 miles per full charge.
The standard range battery provides an EPA-estimated 230-mile range when fully charged. You can cover a lot of land from Saranac Lake to Malone without needing to stop for a recharge. The question isn't how far you can go. The question is, "how far WILL you go with your new 2022 Ford F-150 Lightning?".
And charging your EV is as easy as it gets. All you'll need is a standard wall outlet or a Wi-Fi, and Bluetooth® enabled 80-amp Ford Charging Station. You'll go to sleep at night and wake up the next morning, knowing your vehicle can handle whatever journey you have planned for the day. And when you're on the go, the Blue Oval™ Charge Network will give you an updated location of more than 19,500 charging ports, the largest in North America.
Performance
The five-and-a-half-foot flatbed provides enough space to carry heavy payloads across Potsdam. When equipped with the extended-range battery pack, your Ford F-150 Lightning will climb from 0-60 MPH in 4.4 seconds. That's with 563 horsepower and 775 lb.-ft. of torque pushing you along the highway for incredible engine performance.
The 2022 Ford F-150 Lightning can haul a max weight of 10,000 lbs. and 1,800 lbs. of payload in the flatbed. That's when your powerful EV is equipped with the Max Trailer Tow Package and the extended-range battery pack. The standard-range battery pack still has respectable towing and payload capacity with up to 7,700 and 1,800 lbs., respectively.
The Backup Power You Need
With the Ford F-150 Lightning in your driveway, you don't need a generator in Massena or Tupper Lake. Your EV can be set to Ford Intelligent Backup Power to provide automatic power to your home. Your truck will provide 9.6 kW of power for up to three days, or as long as ten days, with smart power usage. So, whenever those storms hit your area in Tupper Lake, you will always be prepared to handle it with your Ford F-150 Lightning.
Safety and Technology
Your Ford F-150 Lighting is equipped with various safety features to keep you safe while you're on the road in Malone. The available Pro Trailer Hitch Assistance helps you assemble your hitch by automatically controlling the steering wheel, throttle, and braking to align the trailer. And with backup assistance, trailer reverse guidance, and a healthy dose of standard driver assistance features, your safety is reassured, no matter where you go.
And, the interior cabin of your EV pickup is designed for productivity. The available interior workspace will transform your front seat into a makeshift office with room for a laptop, tablet, and more. Your workspace becomes fully mobile when you add the 4G LTE wireless hotspot. That's a convenient way to handle business no matter what time of day it is.
Bailey Ford of Malone
The 2022 Ford F-150 Lightning is the charge you and your business need this year. At  Bailey Ford of Malone, we've got the most inventory of any dealership in the area. And that includes this spectacular EV pickup. Our friendly associates are not about the hard sale. We'll listen to your needs and show you what we have available.
You can browse online or head down to our dealership and test drive your next Electric truck. It's time to step into the future. It's time to step into the driver's seat of your very own Ford F-150 Lightning in Malone. We'll see you soon.
Reach Out to Us About the 2022 Ford Lightning